Excerpts from Milking Our Memories: 150 years of the Walshs of Walshs Road South Purrumbete (Pat Walsh, April 2020)
Why this memoir? There are too many reasons to unpack here. Chief among them, however, was a deeply felt imperative to re-connect with my own family, place and origins after many years doing other things and to leave future generations with a sense of their history before it was lost. As no family is an island, this inevitably meant re-connecting us to our bigger clan, past and present.
I also felt the memoir would work and be fun. I had to do a lot of digging but, at a practical level, there was plenty of good, colourful material to work with and to knock into a readable story. 'If you haven't got the ball', says Sam of Coodabeen Champions fame, 'It's very hard to score!'
Given the ambitious scope of the memoir (four generations across 150 years), my biggest challenge was to avoid swamping the reader with detail. Rather than putting everything I was told into the story, or writing a series of detailed biographies, I've been selective in the interests of readability. I also wanted to capture the milieu in which the Walshs lived by telling the stories of places, institutions, events and issues.
– – – – – – – – – – – – – – – –
Chapter 2. The First Walshs of Walshs Road
The story of Maurice and Margaret, the first Walshs of Walshs Road, South Purrumbete, is both improbable and remarkable. From their earliest years, the odds were stacked against them. They were born losers, condemned by dehumanising and systemic poverty, discrimination, bigotry and repression to a second-class ride through short lives distinguished only by ill-health, frustration, and daily struggle. Remarkably, however, their lives didn't work out like that. Thanks to some lucky breaks, great sacrifices, prodigious leaps in the dark, and, it has to be said, their enterprise and strength of spirit, the road, initially rocky, finally rose to meet them and the wind of Providence filled their sails. It carried them half a world away from their desperate origins to a new world, Australia. Here they not only survived; they thrived. [p. 21]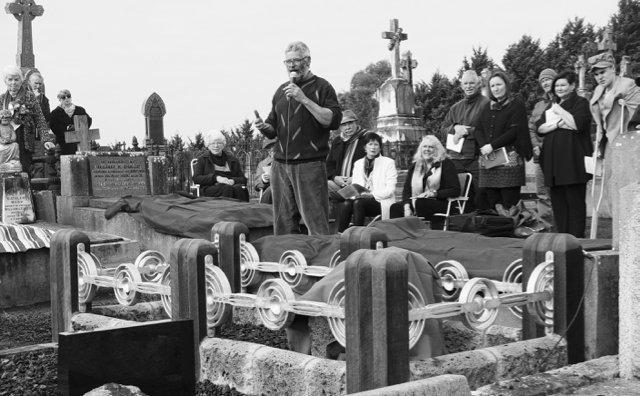 Chapter 3. The Stoney Rises
Mitchell's euphoria over the natural wealth of the area was surely shared by his Aboriginal contemporaries. It was 'felix' to them too. And because they valued and cared for it like family leaving only the lightest of footprints, Mitchell, and later our ancestors, ironically had them to thank for the prime condition of the area. [p. 61]
It can be safely assumed that Maurice and Margaret and their seven children all enjoyed rabbit stew and knew how to trap, skin and cook rabbits. The tradition was passed down to us and continues today, though in a far smaller way. As kids, we all learned to hunt rabbits. Our shed was festooned with metal rabbit traps and the wire frames on which skins were stretched to dry. Ferrets, dogs and guns completed the hunter's kit. We learned where to set a trap by identifying fresh droppings and new mounds at the entrance to burrows. We learned to shoot our single barrel 4-10 shot gun and rifle. One of my worst memories is being asked by Mum to cull our numerous dogs by shooting one of their number, Blackie. Unable to look him in the eye close up, I tied him to a post and shot him from too far back. This left him badly wounded and yelping in pain until I forced myself to complete his execution. [p. 83-84]
Chapter 6. Cyril Augustine Walsh: War Hero
All (Uncle Cyril's) siblings were impacted by the Second World War. But his story stands out in sharper relief and poignancy because he lost his life in the service of freedom. He was our very own victim of Nazi Germany. His death, the knock on the door that all parents whose children were on active service feared, admitted the very beast, not just its shadow, into the inner sanctum of a farm house on a back country road at the far edge of the Western world. [p. 159]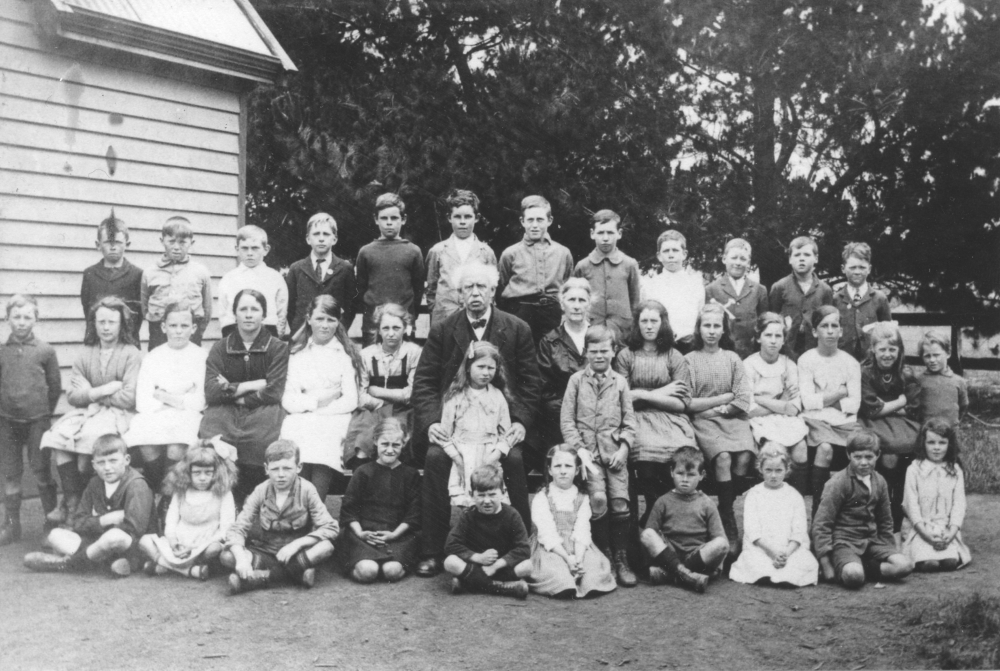 Chapter 8 The Third Walshs of Walshs Road
(Mum and Dad's) wedding was the first to be celebrated at St Brigid's. The Darcys dispute this and claim that Jack and Noreen were the first. The Camperdown Chronicle, however, states it was Mum and Dad. As they say in research ci.rcles, whoever writes the minutes has the last word even if one of our aunts wrote the story. It misspells Mum's name as Foster, but the Corangamite Heritage Study (2014) also supports our claim to fame. [p. 229]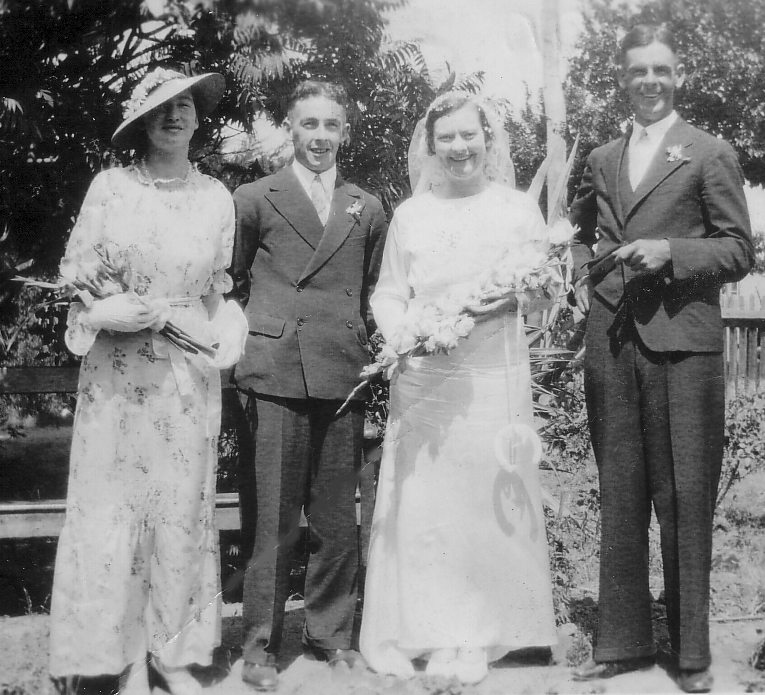 Nothing, apart from a fat milk cheque, quickened a farmer's pulse more than the sight of a freshly mown paddock strewn with bales of hay ripening in the summer sun. Where Van Gogh might have seen living colour, the scene presented the farmer, as producer and breadwinner, with a comforting vision of order and security, insurance for him and his family against the vagaries of the seasons and the market, at least for another year. [p. 260]
Chapter 9. The Fourth Walshs of Walshs Road
Peter, John and Cyril all played for the (South Purrumbete) Panthers at various times. John reckons Peter could have played VFL if circumstances at home and the club had been more favourable. Facilities at the ground were rustic. There were no showers or fancy amenities to clean up after a muddy game in the middle of winter. When they came off at half time, players were offered a shot of whiskey to fire them up. Income depended on gate takings and Cyril, who ran the boundary before joining the contest himself, had to work hard to get his ten bob off the committee. [p. 311]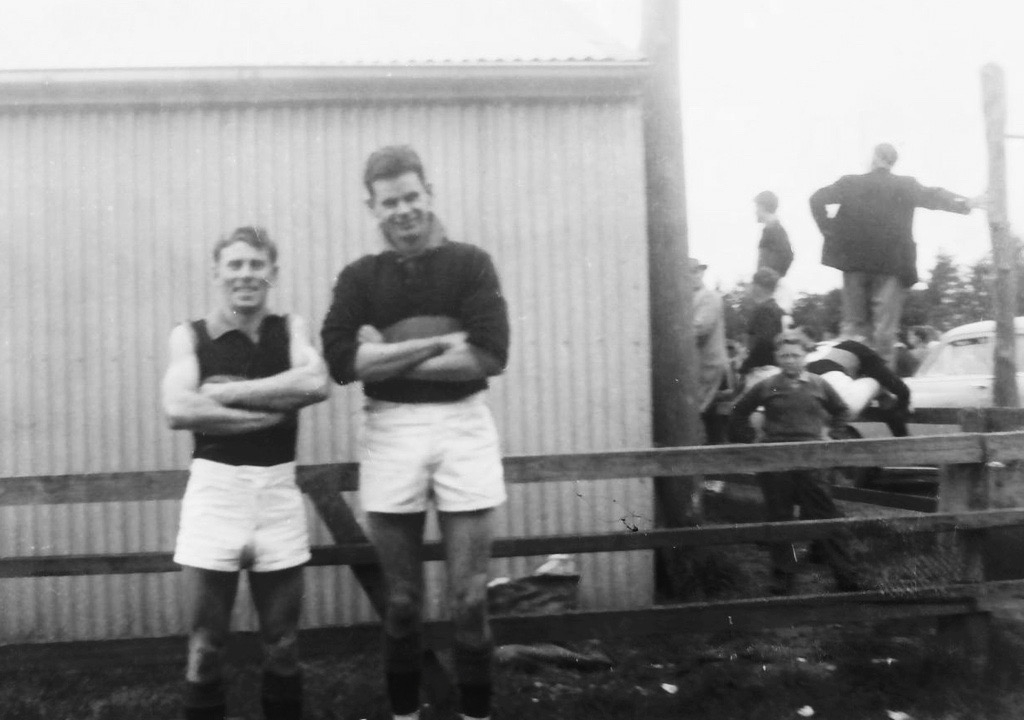 If it turns out that John is the last of the Walshs of Walshs Road, South Purrumbete, we will have regrets but no reason to complain. Our connection to country will be broken and links to ancestors further weakened. But we will have him to thank for his keen sense of history and his contribution to the family narrative, both as hyperthymesist and participant. He has kept the show on the road thus far and helped keep us in touch with our past, enabling us to appreciate better what has gone into creating a story that has all the ups and downs, twists, turns and rugged beauty of the Stoney Rises. [p. 335]
– – – – – – – – – – – –
MORE INFO: Visit Facebook page The First Walshs of Walshs Road, South Purrumbete.
PRAISE FOR MILKING OUR MEMORIES
Tony Wright, Special Writer for The Age and The Sydney Morning Herald, writes: Walsh, "a story teller with a rare gift for words… has returned to his childhood to write an arresting history of his dairy-farming family just south of the Stony Rises at South Purrumbete, a land of ancient volcanoes and lakes between Colac and Camperdown in the Western District" of Victoria. See his article here.
HOW TO PURCHASE
Contact Pat Walsh by email (padiwalsh@gmail.com). Price: $30.00.