I've taken the plunge and accepted an invitation to join the board of the Herb Feith Foundation and its Badan Pekerja. I joined an illustrious group of Indonesia experts and some former colleagues of Herb for my first Board meeting on 18 February 2013 at Monash University.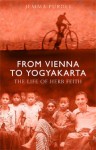 The Foundation was established in 2003 by the Council of Monash University to promote and support the kind of work Herb (1930-2001) devoted his life to. Joining it offers the potential to continue some of the peace and human rights work I undertook with Herb's support during the last two decades of his life.
Jemma Purdey has written a terrific biography of Herb – From Vienna to Yogyakarta: The life of Herb Feith, (UNSW Press June 2011). One of my tasks at the HHF will be to help facilitate the publication of an Indonesian translation of this biography so that younger Indonesians who may not know about Herb can learn of him and be inspired to live according to the values that were dear to him.
Further information: HFF  Website
———-
English edition of Chega!
Chega! (Portuguese for stop, no more, enough) is the title of the CAVR East Timor truth commission report on its work, findings and recommendations. The report has been available on the web in several languages since its presentation in 2005.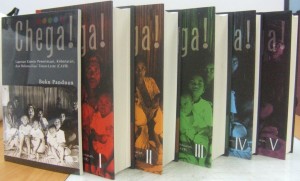 The purpose of the current project is to make the English language version available in book form. This is being done by an Indonesian company and will be completed in 2013. The Dili-based Post-CAVR Secretariat is supervising the project with my assistance.
The Indonesian print edition was launched in Jakarta in 2010. Benny Harman MP (Chair of the Indonesian House of Representatives Committee III), one of two panellists invited to discuss the report, described it as a 'gift to humanity', said it meant that everything Indonesians had been told about Timor-Leste in the past was false and that Chega! should be made available to the Indonesian public through the education system. He also noted that the work would certainly have been banned under the Suharto Orde Baru but that its publication and launch now were compelling evidence of the positive changes Indonesia has seen in a few short years.
———-
Institute of Memory
Both East Timor's truth commissions recommended that a follow-up institution be established to build on their work. No decision has yet been made on this recommendation.  As the out-going Parliament did not complete consideration of the matter, it is now up to the new Parliament (elected July 2012) whether to proceed or not. The project involves working with key stakeholders to win Parliamentary and Government approval for the initiative and, if successful, assistance with institution building. The Institute, similar to those established in several Latin American countries over the last decade, would be located at the former colonial prison in Dili that CAVR used (and that Lonely Planet encourages people to visit) and include further development of the important historical archive collected by CAVR and programs dedicated to the missing, reparations, memorialisation, and human rights education.
Further information: See my August 2012 Update
———-
Clearing House for Archival Records on Timor (CHART)
John Waddingham and I started this exciting project in 2000 to ensure that, post-independence, Australian-held records on East Timor's liberation struggle were preserved and eventually accessible in East Timor. Xanana Gusmao, Mari Alkatiri and Jose Ramos-Horta are the project's patrons. The project has been re-organised, re-located to the Columban centre in Essendon, Melbourne and involves digitalising the rich stock of Australian privately-held material (audio, visual, print) for the 25 year period 1974-1999. Chart is focussed on Australian-held material only, but hopefully the idea will stimulate other countries like Indonesia etc to preserve and digitalise their material on East Timor so that new generations of East Timorese in particular will have access to their extraordinary history. Volunteers and financial donations are warmly welcome!
Further information:
CHART Website
For the record. My 1999 paper on preserving Timor archives.
———-