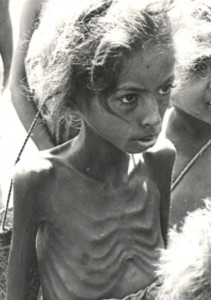 This year marks roughly the 40th anniversary of the great famine in Timor-Leste 1977-1980. Famine was employed by the Indonesian military to force civilians out of the mountains into their control. It was the major cause of war-related death during the Occupation.
Recently I travelled to Laga, east of Baucau, to visit one site where thousands died anonymously and are not commemorated. The photo opposite is a nameless girl photographed in Laga by Peter Rodgers in October 1979.
Click heading below to see my findings and recommendations to the Centro Nacional Chega! (CNC).
Laga famine 40th Anniversary: Integrated proposal to Centro Nacional Chega! (CNC)