On 20 April Annie, Mayra, Trish and I, kitted out in our finery, drove to Government House in Melbourne for my AM investiture by Gov Alex Chernov. Zannah was represented by a long warm sms from northern Spain where she was in the early stages of her Camino de Santiago trek. Taking the toughest route, raked by hail and wind sleeting in from the North Sea, she still had as far as Melbourne to Canberra to go. We missed her greatly but, allowed only three guests, were quietly thankful that she had spared us having to make a Sophie's choice.
Anxious not to breach protocol on such an important occasion, Annie and our neighbours Rosie and Andrew spent the previous evening poring over maps like military strategists to determine how to beat the worst of the morning traffic between Northcote and Government House (on the other side of the city) and arrive on time. As happens in Melbourne, it was wet and the roads were as full as a Catholic school. Oh that we were in Jakarta and could queue jump by using a bus lane. Relaxed in the back seat Maiz and Trish calmly discussed their finances while Annie and I sat rigid and grim-faced in the front, silently lacerating ourselves for not leaving earlier or taking public transport, certain we were going to be late and locked out, as warned in the invitation advisory. The sight of panicking guests abandoning their vehicles to hot-foot it into the vast park that surrounds Government House added to the tension. Should I bail out too, I wondered, and leave Annie to park the wretched car. Suddenly, however, like Ablett on the wing, we broke through and, tugged by a mystery hand, looked in the rear vision mirror to see Bruce Hartnett and Louise Einfeld in their car behind us, late as well. We could relax. No way would vip Australia Day committee members like them be locked out.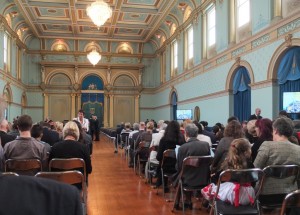 Inside we separated. Annie and the girls found some seats towards the back. I was ushered into a large side room to be seated with the W's amongst the chosen ones lining both sides of an impressive polished wooden table just short of a cricket pitch in length. Large floor to ceiling windows framed views of a lush lawn and spacious grounds. A painting of Queen Victoria as a teenage princess hung over the door and flattering life size portraits of other royals adorned the walls. Prince Edward is depicted wearing a sword and an ermine cape so long and heavy that he could not have lasted a second in a duel. I commented to Dr Carole Webb, a vet sitting on my right who had earned an AM for animal welfare, that dozens of weasels must have been slaughtered to make the cape.
To my left was Chris Wallace-Crabbe, 77, a soon to-be-anointed distinguished poet and academic, who has retired but is keeping his hand in. He loves Mondays when he goes to Melbourne Uni to tutor post-grads in English literature. We discussed the absence of literature and poetry from public places in Melbourne, unlike Sydney, though I noted that James McAuley is quoted in the water feature at St Pat's Cathedral. Chris said he used to visit Government House when Davis McCaughey was Governor and held poetry readings.
I told him I had visited once, to accompany Adnan Buyung Nasution, the Indonesian human rights lawyer, to dinner with Governor Richard McGarvie. I recalled my mum being delighted because she knew McGarvie's around Colac. The Vice-Regal secretary had telephoned me one evening to say the Governor had heard Buyung on the ABC and would like to meet him. Years before he had taken an interest in his case when Buyung had been detained in Jakarta. I recalled the logistics of the dinner vividly, if not the menu.
Chris pointed out a number of eminence grise across from us, amongst them historians and the Jesuit Bill Uren, head of Newman College. Most of the chosen ones were seniors and men outnumbered women, confirming the impression from our imperial surroundings that we had stepped back a century or so. When the MC began to brief us on procedure, he was greeted with loud cries from the far end of the room 'can't hear you, can't hear you'!
Investiture
The investiture lasted about an hour. It was conducted with the ceremonial dignity one would expect of such an event and considerably faster than the mass baptism in East Timor I recount in The Baptism of Carlos Maria Walsh in my book. Each of the 148 candidates was ushered forward to stand beside a naval officer dressed in crisp white. Then, on hearing one's name announced, to walk 10 paces along a red carpet to shake hands with the Governor while the respective citation was read to the audience.
My beautifully worded citation read: For service to the international community in the Asia-Pacific region as an advocate for human rights, particularly in Timor-Leste. Governor Chernov congratulated me and placed my medal on a hook that staff had pinned on my jacket earlier. We had our photo taken and as I exited off the red carpet was presented with two white packages and shown my seat. It was all over quickly though, in my excitement, I may have thrown the timing out by taking the Governor's hand for an unscheduled second handshake before proceeding on my way. I spent the rest of the time vacantly clapping other recipients and gazing at the detailed paintwork of the ballroom ceiling.
The medal hangs off a ribbon, blue with touches of wattle yellow. It is gold in colour, slightly larger than a 50 cent piece, and topped by Her Majesty's crown which sits above an explosion of dots – fitting, given it's her 60th anniversary year. One of the packages held a smaller version that could be worn less ostentatiously, plus a button size version for permanent display on one's jacket to signal membership of the club.
The second box contained a folder in blinding royal blue and inside it The Order of Australia from Governor General Quentin Bryce (a former human rights commissioner). It reads:
To Patrick Ernest Walsh, Greeting. Whereas with the approval of Her Majesty Queen Elizabeth The Second, Queen of Australia and Sovereign of the Order of Australia, I have been pleased to appoint you to be a Member in the General Division of the Order of Australia, I do by these Presents appoint you to be a Member in the General Division of the said Order and authorise you to hold and enjoy the dignity of such appointment together with membership in the said Order and all privileges thereunto appertaining. Given at Government House, Canberra, under the seal of the Order of Australia this twenty-sixth day of January 2012. By Her Excellency's Command, Stephen Brady, Secretary of the Order of Australia.
The ceremony ended on a highly poignant note. The final awards were given posthumously to relatives (elderly sisters, sons, nieces) of ordinary soldiers who had died during World War II trying to escape Japanese prisoner of war camps or executed after being caught escaping.
Governor Chernov spoke briefly (missing an opportunity to inspire, we felt), the navy band stationed high above the ballroom entrance played, light refreshments were served, photos were taken and congratulations flowed like good wine. Caroline Hogg, Bruce and Louise came to say well done. Maiz and Trish had a look around the state apartments, then joined Annie and I to lounge languidly, if not aristocratically, on a blue sofa. We chatted to Bryan Keon-Cohen, posed for pix on the lawn outside and had the professional photographers take some portraits.
Celebrating the moment
We were among the last to leave. The sun was now shining and I was too. Trish and Maiz announced that they'd booked us into The Windsor for high afternoon tea at 2.30 pm, an inspired initiative that allowed us to live the moment a bit longer. Off we motored, free of the anxiety that had gripped us like Tony Abbott's economic python on our arrival three hours previously.
As if we needed further reminders of empire, an Indian named Shiraz waited on us at The Windsor and served us cucumber sandwiches (amongst other tasty delights heaped on a four level dish) and Darjeeling Tea. Trish decided it was the 'perfect moment' to quiz Annie and I about our romance and we rummaged in our memories though Annie's recollection, as always, was much sharper than mine.
The icing on the cake, however, was the dinner we hosted at Downunder Curry in Northcote that evening. We invited as many friends and colleagues as we could find, particularly those from the 70s and 80s when the going was tough, to con-celebrate what was, as many had commented, overdue recognition for our sector. Annie compered and Bill Armstrong AO invested me all over again. As Major-General Paul Cullen used to say at ACFOA's annual council one piece of coal can't make the train run especially when it has to travel uphill.