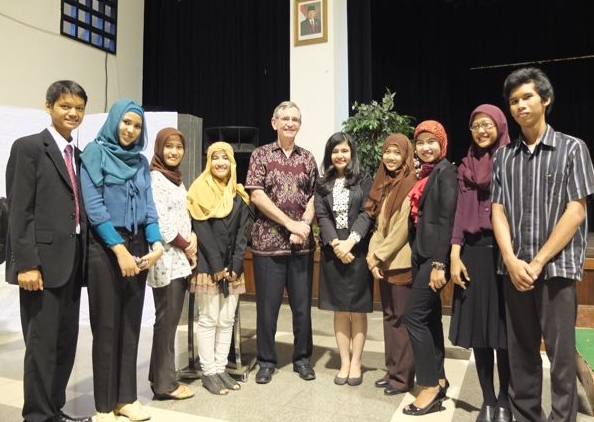 Nearly 200 students and their lecturer attended the launch of my book Di Tempat Kejadian Perkara (At the Scene of the Crime) at the University of Padjadjaran (Unpad) in Jatinangor near Bandung on 24 October 12. It was the best book launch I've ever attended.
I have four organizations to thank for that: Layar Kita (film society); KPG (the publisher); the Unpad International Relations Students Association and their lecturer Dr Viani Puspitasari; and Batu Api (community library).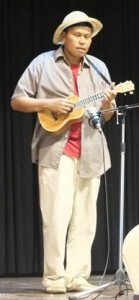 Strumming on his ukulele like Tiny Tim, a student kicked off proceedings with a couple of songs. Tobing (Layar Kita), the best agent one could hope for, introduced me and I reminisced about my first visit to Bandung in 1968 when I was 27. Dr Viani, who lectures in international relations, spoke knowledgeably about Timor's history and two students, backed by guitars and violin, performed a musikalisasi of my poem Sinar Malam (Night light – about blackouts in Dili, both the electrical and cosmic varieties).
After a break and 'door prizes' (during which students won a copy of my and other books in response to questions from Tobing), we launched into a good hour of Q and A on East Timor and human rights. Questions included: why had Indonesia invaded, why was so little being done about historic crimes, how did Timorese feel about Indonesians, how did I get involved in human rights. Following the Q and A, which was conducted without a hint of defensiveness or hostility, I posed for photos with students and had a number of one-to-ones about issues such as human rights in Papua, Burma (Rohingya Muslims), and courses in human rights.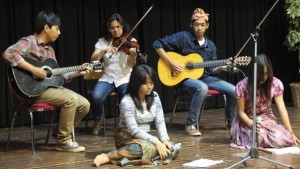 Locals told me that a small community of East Timorese live near Jatinangor. Called Yayasan Lemorai Timor Indonesia, the community mainly comprises orphans and is led by Pak Arif Marzuki (formerly Martino Balera), a survivor from Matabian in the late 1970s who has since converted to Islam. Pak Arif was invited to the launch but declined.
Di Tempat Kejadian Perkara is now on sale in Gramedia shops throughout Indonesia for Rp 40,000.